About Us
The Saratoga Springs...we are a Wedding and Reception Venue, located just minutes from Charlotte, North Carolina in a quaint little town called Mount Pleasant.
Our venture into the exciting world of weddings began quite unexpectedly. In 1994 we purchased a parcel of land in a very rural setting to build our dream home. After years of hard work clearing the land, and 2 ½ years of construction, our dream home was completed. It is a plantation-style home on 22-acres of impeccably landscaped grounds, reminiscent of "Tara," the plantation in the movie, "Gone With The Wind."
We had been in the home only for a few months when Tammy's sister asked to have an outdoor wedding at our home. Being our family, of course we said yes. As a wedding gift to her, we obtained the services of Adams Stage Lines, owned and operated by John D. & Phyllis Adams. They provided a white Victorian vis-à-vis carriage drawn by an American Standard-bred horse. In this quiet, serene country environment, the carriage was a lovely addition to an already beautiful setting for a wedding. They have been in the horse-drawn carriage business for over 30 years, and elaborated that in all of those years of countless weddings in the Carolinas, Virginia, Tennessee, and Georgia, they had never seen a wedding site more beautiful than our plantation. Thus they provided the encouragement and inspiration for the birth of The Saratoga Springs (named after a Southern Living house plan designed by William E. Poole of Wilmington, NC, and constructed by Bobby Troutman, owner of Country Living Custom Builders.) We chose as our slogan, "A Storybook Wedding in a Plantation Setting."
We began scheduling weddings on a regular basis in the fall of 2001. Since that year, we have seen phenomenal growth, and because of this, we found it necessary to build an indoor reception facility which we appropriately named, Scarlett Hall. Several other additions have been added over the years, including a 40 x 60 frame tent on a concrete foundation and a new patio area in 2013, and a brand new tent in 2016!
What started out as simply a site for a family wedding has now transformed our home into a full-time, family owned and operated wedding business, full of Southern hospitality and charm for up to 250 guests!
More than 14 years later, we find ourselves still doing what we enjoy…being a part of someone's "happily ever after" and everyone leaves feeling like part of our extended family. Several family members are now a part of our staff, all whom greatly enjoy what they do. Tammi Honeycutt (our daughter-in-law) has been our Lead Wedding Director for over 13 years and for several years now has been the Manager of the venue. This year Tammi is stepping down from directing duties and focusing more on being our General Manager. Because of this recent change, we are happy to have a new Lead Director on board, Leslie Liles! Leslie comes to us with 10 years experience in the wedding industry and we look forward to working with her. Donna Hanna (Tammy's sister) remains our Assistant Wedding Director as she has for over 13 years and also helps with the set up of the events.
We are all privileged to have been a part of hundreds of weddings and receptions that have taken place at the Saratoga Springs…but more importantly we are honored that so many people that have come to Saratoga as customers but have left as friends.
Thank you for visiting our website. We would love the opportunity to be a part of YOUR "Southern Fairytale".
Larry & Tammy Honeycutt- Owners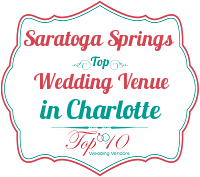 // ]]>
Save